ABOUT IKIJI
Craftsmanship of Japan ( Make in Japan )
IKIJI was founded by a group of craftsmen from a ward in Tokyo renowned for its artists and craftsmen where the real soul of Edo lives on to this day. Historically, 'iki' is the aesthetic of Edo's common people, where they enjoyed their own personal style and way of being with integrity. IKIJI's craftsmen inherit the skill and uncompromising ethos of Edo's artisans - channeling their pride in the smallest details - producing the highest quality products with a design and playfulness suitable for contemporary lifestyles.
CRAFTSMANSHIP
Artisans
To IKIJI, everything is detail. Our products want to offer comfort to the wearer and a finely cut silhouette to the observer. The texture felt when in hand is produced by constant improvement and outstanding artisanal skill in each stage of each process.
Selectiveness
IKIJI's products are made from the finest materials. Each stage of the manufacturing process receives full attention. The outstanding whole is made from outstanding parts. The outstanding parts are made from outstanding materials. Our manufacturing process begins with selecting raw materials such as yarns, fabrics and leather under the exacting standards of our craftsmen. Depending on the product, we develop yarns separately.
Heritage
IKIJI was born in Sumida ward, an area where the culture and traditions of Edo continue to allure skillful and talented artists who in turn keep this heritage alive. In this region, during the latter part of the Edo period, samurais lay down their swords and some would become master artisans. IKIJI's network of craftsmen now incorporates artisans across Japan.
The story behind the logo
The IKIJI logo is based on the tsura-no-kawaume, an image that became popular in the Edo period, which depicts a face on plum petals and means 'much good fortune'.

Our hope behind the logo is for much good fortune to come to those who wear IKIJI.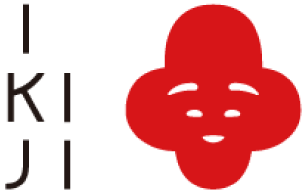 MEDIA
Their line is simple but unique, and incorporates patterns that have been used in Edo-Tokyo for centuries...

Time Out TOKYO - 100 best shops in Tokyo